Dwayne Johnson is back with the 'Jumanji' fever. Through his Instagram post, the lead revealed the date of release along with the poster of the new 'Jumanji' film that bears the name 'Jumanji: The Next Level.'
With the announcement of the date of release, 'Jumanji: The Next Level' the fans are already gushing about the adventure and thrill that the movie is expected to provide. The trailer of 'Jumanji: The Next Level' was released on July 01, 2019, which gave a brief idea about its plot. In the trailer, we saw that Spencer landed back on the grounds of the game with the other team members who were going back in search of him. His grandfather and grandfather's friend, however, was seen getting stuck along with the high schoolers which raised the level of humor.
The first of the series, 'Jumanji' was released in 1995 followed by the next one in 2017 which was named, 'Jumanji: Welcome to the Jungle.' The latest one is scheduled to get released on December 2019.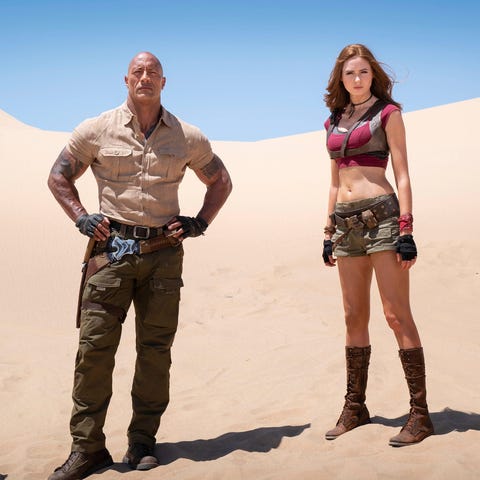 As per the sources, the destinations shown in 'Jumanji 3' ranges from some exotic Hawaiin jungles to mountains covered in snow as well as to vast lands of the desert. 'The Next Level' indeed takes the shots to some unexpected levels that will leave the audiences in awe.
Apart from the primary crew of Jumanji starring Dwayne Johnson, Kevin Hart, Karen Gillan, Nick Jonas, Jack Black, Alex Wolff, and others, the new faces that will join the team are Awkwafina, Danny DeVito and Danny Glover. Hence, if the cast was already a strong one, now it will b stronger than before.
' Jumanji 2' was although stated to be a sequel of the previous 'Jumanji' no direct references were drawn from the latter. However, the director, Jake Kasden has assured the audiences of suitable relevances in 'Jumanji 3' that has been drawn from the first and second movies of the series, especially from 'Jumanji 2'.
The release date for 'Jumanji: The Next Level' has been set on December 13, 2019.