Get an exclusive behind-the-scenes look for Don't Look Up
Netflix recently released its highly anticipated dark comedy film Don't Look Up, and now there is an update. No, it is not a sequel, but instead a podcast named The Last Movie Ever Made.
Check out what it will be about.
About the podcast
The podcast based on the Adam McKay-directorial will come out on January 7, 2022 and consist of six episodes. We will be getting a look into the production process of the star-studded project, as well as special appearances from the cast members. This will include Jennifer Lawrence, Leonardo DiCaprio, Meryl Streep, Tyler Perry, Ariana Grande, Timothée Chalamet, Rob Morgan and Himesh Patel.
The movie was also briefly tangled up in controversy for seemingly pointing out how ruling parties have mishandled the coronavirus pandemic, by mocking the people in power in the movie, and how they twisted each disaster into something that will give them more political power.
In the podcast's logline, it is described that the movie was made to make fun of and point out the forces that prevent us from saving ourselves from climate change. It also added that 2020 had other plans, and they wanted to show how the cast and crew came together to make a disaster comedy while they are going through a real-life disaster themselves.
The movie's reception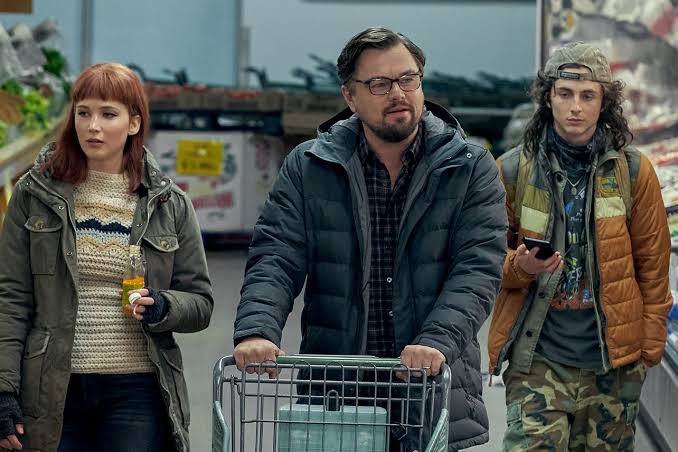 Like any other Netflix movie, Don't Look Up had a limited theatrical run starting on December 10, and was globally available to stream on Netflix on December 24. While it got major viewership in no time, the reviews have been mostly mixed. However, it can still appear in this year's awards shows as many critics described it to be "too funny to lose."
Also read: NORMAN REEDUS GETS 'THE WALKING DEAD' SHOWRUNNER'S SUPPORT IN BEING THE MCU'S GHOST RIDER