TXT back at it with another viral cover
Tomorrow X Together's Yeonjun and Taehyun have just dropped a home-made cover of a popular song. However, despite being home recorded, it retains the quality of the original. The song is a cover of The Kid LAROI and Justin Bieber's summer bop "Stay" and was dropped on October 20. "Stay" is one of the biggest songs of the year, and is trending on YouTube as well as TikTok. It stayed at the top of the Billboard Hot 100 songs for 14 weeks.
The video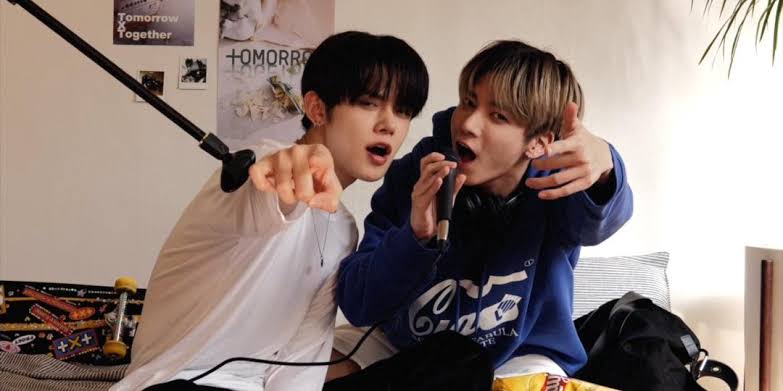 In the video, we see the young K-pop artists chilling on a futon and sharing a mic. It starts with Yeonjun singing the first verse. Taehyun sits at the back, scrolling through his phone before he joins in as well. The video was only a minute and 40 seconds long, and we wish it was longer. Their voices perfectly match the song, and at times, even sound similar to the original.
The group had dropped covers of hit songs like Shawn Mendes' "In My Blood," Ariana Grande's "Thank u, Next," Avenue Beat's "F2020," and Marteen's "Sriracha." They are all set to drop their first Japanese EP Chaotic Wonderland" on November 10. Huening Kai had done his version of "Youngblood" by 5 Seconds of Summer, and Taehyun had done his take on ZAYN's "Let Me," among others.
Wish to collaborate
There is perhaps more meaning to this cover than we know. Both Yeonjun and Taehyun had spoken in the past about their desire to work with Bieber and The Kid LAROi. When TXT arrived as guests on the Daebak Show With Eric Nam in August, Taehyun said he would love to offer The Kid LAROi a bowl of hot gukbap.
Let's hope their wishes come true.
Also read: NCT'S JAEHYUN CONFIRMED TO STAR IN THE REBOOT OF THE CLASSIC "BUNGEE JUMPING OF THEIR OWN"