Disney releases the official poster for "The Little Mermaid"
After the little tale of animated series brushing up your memories, here's Disney presenting "The Little Mermaid" for your kids to get addicted on Disney again. Disney has been surprising us since 1930s by their unbeatable films. Movies like Snow White and the Seven Dwarfs, which represents the love of the prince with snow white and a wicked lady of feeding a red apple, was the first film of Walt Disney and surely reminds you about your childhood memories.
Disney being rocking with its films like Pinocchio, Dumbo, Bambi, Cinderella etc. has now released the most awaited poster of 'The Little mermaid'.
Disney has released the official movie poster for the live-action version of "The Little Mermaid." The photo shows Ariel (the main character of the film), played by Halle Bailey, sitting on the top of a rock under the sea as she is gazing into the shining light glaring past through the surface.
From this poster Bailey tweeted "Words can't describe how immensely honored I feel to play the mermaid of my dreams, Ariel in Disney's 'The Little Mermaid,' Come under the sea with me."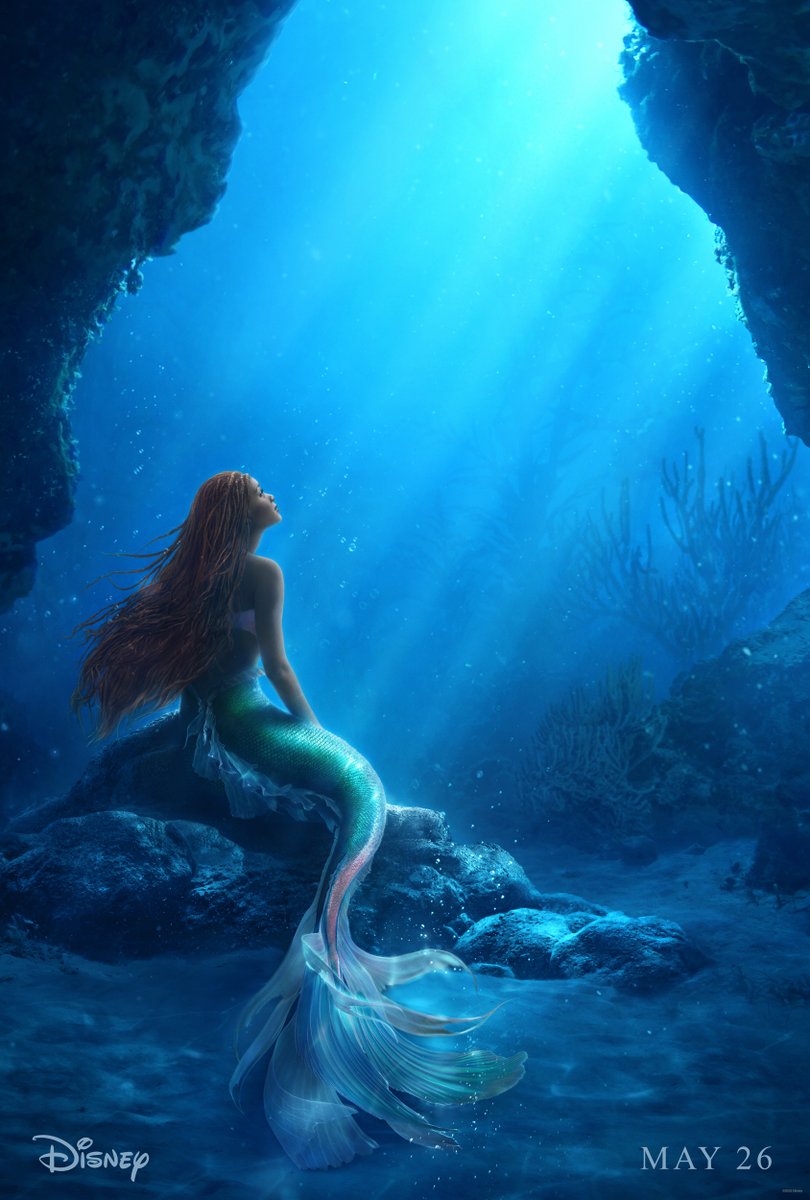 About the film
The film will be directed by Rob Marshall and it will be a live-action reimagination of the 1989 animated movie from the studio. Starring Javier Bardem as King Triton, and Melissa McCarthy as the role of the evil sea witch, Ursula. "Hamilton" star Daveed Diggs will voice Sebastian, Awkwafina of "Raya the Last Dragon" will voice Scuttle and Jacob Tremblay of "Luca" will voice Flounder.
"The Little Mermaid" will be aired in theaters on May 26, 2023.
Buzz about the fans
You can check out the trailer from below:
The teaser is being celebrated by the children and has also stolen the interest of adults also. Even the international fans are waiting for the film to be relased as fast as it could be. Everyone is eagerly waiting for the show to blow the minds of all. The Little Mermaid poster is one of the few promos we've seen for the movie. Shortly after the trailer was released, countless videos of kids being overjoyed to discover that Ariel is Black in the film hit the internet like a tidal wave.
Also read: SHE-HULK EPISODE 9 EASTER EGGS AND FOURTH-WALL BREAKS