A group of four girls turning the world of hip hop upside down 
If you don't recognize then let us tell you that Queens is a musical drama by ABC. The series premiered yesterday and has created a buzz already. Queens follow four women who once appeared as "Nasty Bitches" in 1990. The girls are named Brianna, Jill, Valeria, and Naomi. Not only did they achieve immense success through their talent but also turned the world of hip hop upside down. 
However, now in their present day, they are in their forties and are sort of unknown. But now as they have reunited there are chances that they might return to their old fame. 
What happened in the latest episode of Queens?
A helicopter drops a woman wearing a bikini along with a gold necklace that traces "Nasty Bitches". The woman begins rapping and after seconds we realize it's not a present-day but a music video. What is happening in the present day is more shocking than in the past. The same woman is now a mother of five and is scene making her daughter's hair. Her name is Brianna was also known as Professor Sex. In the present day, she finds her husband cheating on her.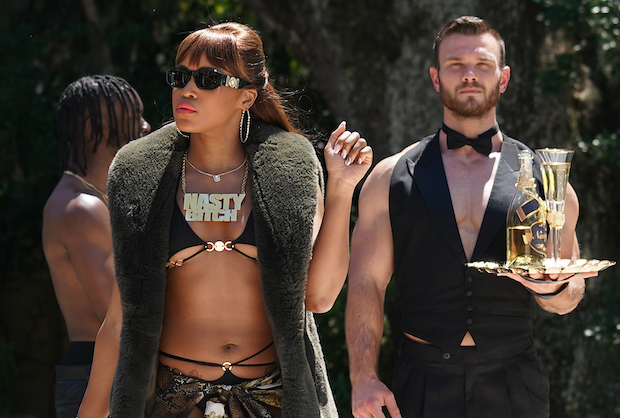 Another story tells us about Jill who is gay but never tells her husband. She was known as Da Thrill and she also had a cocaine problem. Naomi who is the 3rd member of the group is still trying to give music a try but as a singer and songwriter. Last but not least is Valeria who is still at some height of fame as she is an on-air personality. 
Team of ABC musical drama Queens
The main lead stars of the show are Eve J. Cooper, Naturi Naughton, Nadine Velazquez, and Brady. Apart from these four ladies, we have Taylor Sele and Pepi Sounga who also have the main role in the series. The show is created by Zahir McGhee and executively produced by Sabrina Wind and Tim Story.  
Also read: VANESSA HUDGENS DRAWS RESEMBLANCE WITH HER CHARACTER IN "ARMY OF THE DEAD"