A different, but not a bad beginning
Early reviews for the Uncharted live-action movie has started arriving.
For starters, the movie might not be appreciated by hardcore fans of the game. We can understand that the makers have played it safe, as everyone knows the wrath of gaming or book fans. Treasure hunter Nathan Drake (Tom Holland) was given a new start. The movie offers the smooth-talking, wise cracking thief a new origin story, and has fit in some action sequences from multiple games. It is definitely fun to see on the bog screen.
The performances
Uncharted wastes little time in explaining the backstories of the characters. It has been called an origin story, and Holland's job was to portray a young Drake. The story begins, and we see a cocky young Nathan Drake being recruited by veteran treasure hunter Victor "Sully" Sullivan (Mark Wahlberg). The pacing was good at these parts, and soon, Nate and Sully comes across Chloe Frazer (Sophia Ali). Frazer becomes a fun addition to the team, and makes the adventure more interesting.
We have to take a moment to appreciate Holland on his portrayal. He made Nathan Drake his own, and brought all his charisma with him. The fact that he is also Spider-Man is totally forgotten as we watch this movie. Mark Wahlberg's performance was decent, but in the end, he didn't become Sully. Sully has always stood out for his deep voice and moustache, which Wahlberg doesn't have. In the games, Sully always had the moustache, and they could've added it. But, it does happen, as seen in a trailer.
The duo did have great chemistry, and there were even a couple of emotional scenes. Therefore, we don't need to be so harsh on them for not being true to the source material. However, the villains are mostly forgettable, and they didn't explain any motives apart from greed. So there's that.
In conclusion…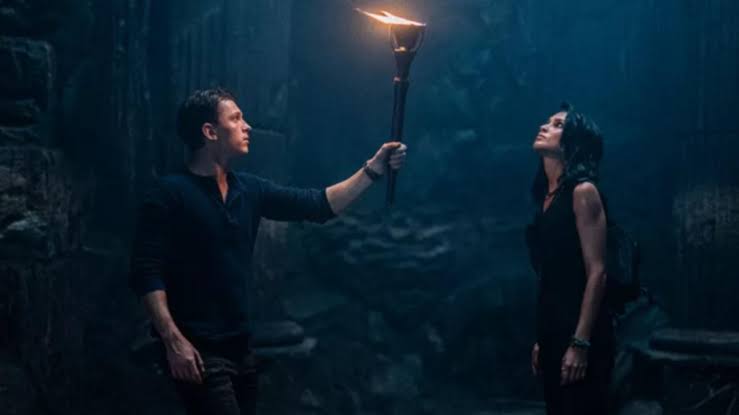 Yes, Uncharted is a fun watch. I have played the initial 3 games, and still enjoyed the movie. From the game, we can understand that the group always comes out triumphant no matter how many injuries they sustain. The action, the wisecracks, collecting clues, and solving puzzles are all reminiscent to the games.
Also read: BOOK OF BOBA FETT FINALE REVIEW: WAS IT A SATISFYING END?