50 Cent stands up for Mo'Nique
The rapper 50 cent used the Instagram platform to ask Oprah and Tyler Perry to apologize. The apology is for actress and comedienne Mo'Nique. He called for those two influential black people in Hollywood to say sorry.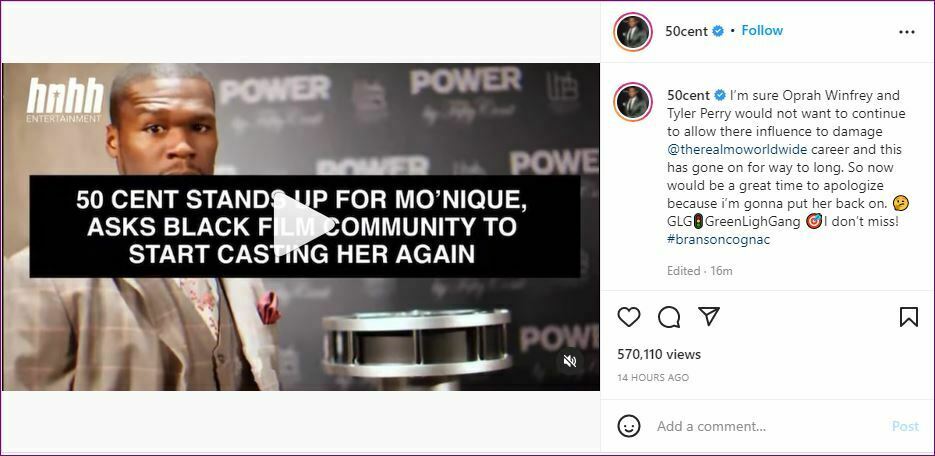 On March 14, Monday, The 'In Da Club' hitmaker shared the news through his official Instagram. A video from HotNewHipHop is posted to support Mo'Nique. The presumed reason behind this is maybe he saw the video of Oprah. The video is about Mo'Nique talking about the injustice towards her in a stand-up set.
In the caption, he mentioned that both Oprah Winfrey and Tyler Perry should stop damaging Mo'Nique's career through their influence. And suggested they apologize to Mo'Nique. He also said that he is going to put Mo'Nique back on!.
Mo'Nique's interview about her acting career
The appearance of Mo'Nique on 'Turnt Out' with TS Madison in February explains it. In the interview, she revealed about her experiences. She spoke about the phone conversation between her and Tyler.
In that call, the filmmaker apologized to her. Later, Perry disagreed to meet Mo'Nique unless she accepts her conditions. The Conditions are that they should meet without her manager/husband. And the second one is that she should apologize to Tyler. Mo'Nique also described that she has beef with Winfrey, Perry, and Lee Daniels. Due to the failure of granting time to spend on promoting 'Precious' in the film's awards campaign. Then the career of Mo'Nique is damaged due to the above reasons.
The last appearance of Mo'Nique in Television, as well as film, was in 2016. By considering the above issues and situations. As a fellow member 50 cent decided to support the situation of Mo'Nique's career.
Also read: MICHAEL KEATON SHOWS HIS SUPPORT FOR UKRAINIAN PRESIDENT VOLODYMYR ZELENSKYY DURING HIS 2022 CRITICS' CHOICE AWARDS ACCEPTANCE SPEECH