Anohana: The Flower We Saw That Day anime is here with answers!
The official website for the Anohana: The Flower We Saw That Day anime series' announced on the occasion of its 10th anniversary
. It stated that "ANOHANA 10 YEARS AFTER Fes.," a direct reference to the "ANOHANA Fes." Hosted in Chichibu in September 2011. A
stage reading has been planned for the event to mark the anniversary of the popular anime wherein lives of the main characters 10 years after the anime's ending, will be revealed
.
Tatsuyuki Nagai was the director, Mari Okada was the scriptwriter.
The character designer was Masayoshi Tanaka, and the animation production
managed by
A-1 Pictures
.
Date of the Event
Mari Okada, the anime's original scriptwriter, is composing the script for the stage reading
.
The event will take place on August 28, and the voice cast will be present at Chichibu in Saitama, the anime's real setting
.
Plot
The anime follows childhood friends. they try to reconcile in high school after drifting apart five years before due to tragedy.
Journey of the series
Anohana first aired in 2011
followed by
an anime feature sequel in 2013.
The anime was also the inspiration for a novelization, manga series, graphic novel, and TV drama
. It also
won the Anime Trending Decade Awards' Spring 2011 Run-off Polls.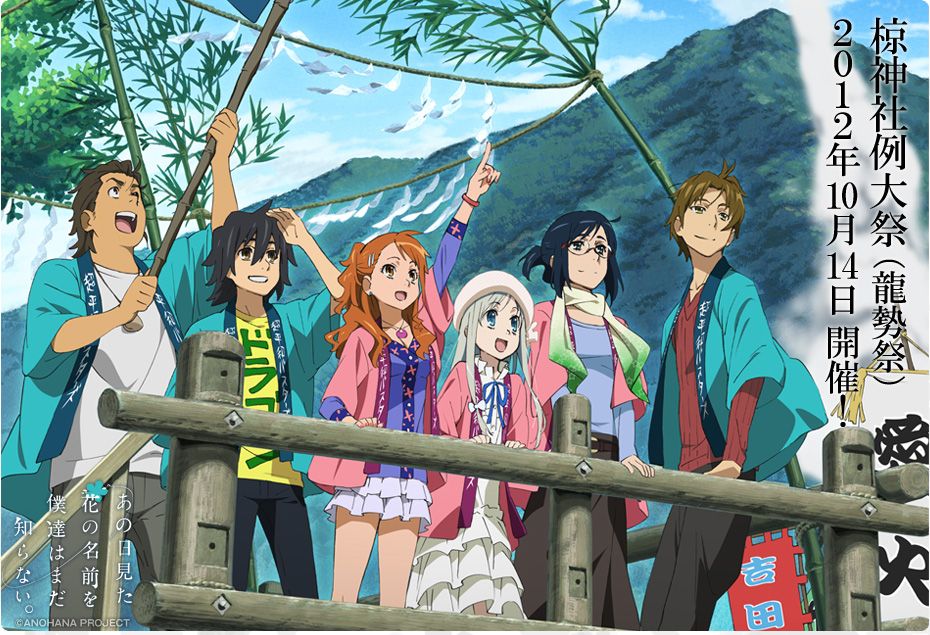 In October 2017, Aniplex of America published a Blu-ray Disc box set with the English dub of the anime series. The dub was only accessible on Verizon's go90 service that month. In June 2019, Netflix started screening the series with the English dub and subtitles.
The television anime, licensed and published by NIS America in 2012 and again in 2013. In 2012, Crunchyroll broadcast the anime. Crunchyroll began broadcasting the dub in January 2020. The series was streamed by Funimation in August 2020.
Also Read: Your Favourite Manga Series 'Blue Lock' Adapting into Televised Anime Series Set to Premiere Next Year