TREASURE released concept posters of Doyoung, Haruto, Park Jeong Woo, and So Jung Hwan!
K-Pop boy band TREASURE amazed fans on Jan 1 with the announcement of their comeback in 2022 with a new music album. The Popular band officially revealed their new album's name " The Second Step : Chapter 1″. The members of the band wished their fans a happy new year and shared their excitement for the comeback.
Concept teasers unveiled
Fans' wait came to an end when the group unveiled the concept posters and films for the upcoming album. The teasers were all bright and shiny, giving fans an inkling for a plesant experience that awaits them.
Comeback Announcement Through Their recent Web Drama Interview
Many reports exclaimed the meticulous work of the band for their new music album " The Second Step : Chapter 1″ alongside of their web drama 'The Mysterious Class'. After the immense response and love showed by viewers for their web drama , the band marked it as a meaningful and valuable experience.
They added that the journey brought a whole new sphere of challenges and experiences. Bandmembers thanked fans in the interview for showing sheer interest towards the drama and said to see them with a new album.
The amazing line-up of work
TREASURE set their foot on the K-POP Industry through the reality-survival program YG Treasure Box (2018). The band was set up by YG Entertainment in 2019 and soon after, in 2020, they released their single album," The First Step : Chapter One". The boy band get immense popularity on their first release and made an appreciation platform for themselves.
"The Second Step : Chapter One" scheduled to be on 15 February, 2022 has already broken the record of over 600,000 pre-ordered copies in just 8 days.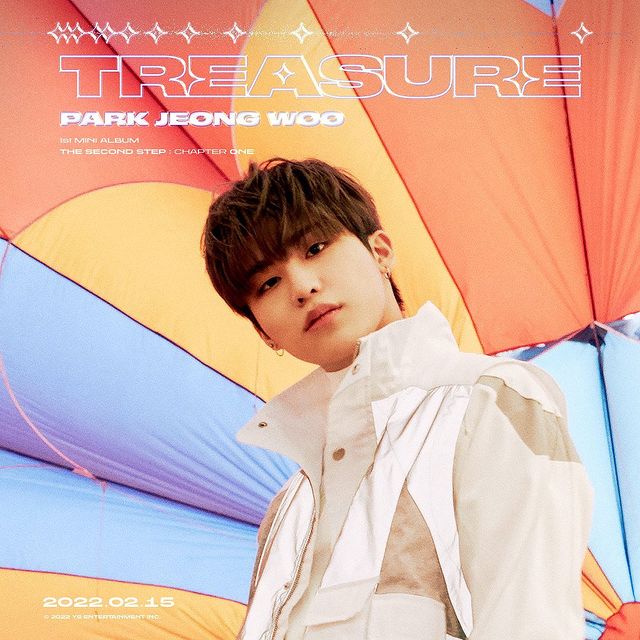 The teasers and posters released by TREASURE of their comeback with new music album " The Second Step : Chapter 1″ raised heartbeats of TEUME. Boys are garbing fan's attention by unleashing their charisma against lively multi-coloured background. The cool poses with beautiful facial expressions and gestures just nailed the vibe. These enthralling visuals are creating more suspense increasing TEUME's curiosity.
The posts are flooded with comments and likes. People waiting with anticipation to see a new level of work as implied by their simple yet gorgeous visuals.
Also read: TOP SPOTS IN BILLBOARD'S WORLD ALBUM CHARTS IS CLAIMED BY NCT, BTS, TWICE, TXT, SEVENTEEN, BLACKPINK, AND ITZY