BTS Becomes the 1st Artist to Win American Music Award for the 4th Time
The 2022 American Music Awards have more than you can even expect. With lots of surprises and awards for your favorite artists, the celebration was unbeatable. The show took place in Los Angeles on Sunday, Nov. 20, 2022. The awards function completed its 50th annual awards this year.
As per reports, BTS made its debut in 2017 on AMA with a grand performance by the band. Fans got super excited after seeing them perform at the function and they performed live at their hit song 'DNA'.
BTS is a popular band loved by almost every region of the world. BTS stands for "Bangtan Boys" in which 'Bangtan' means bulletproof in Korean language. The squad belongs from South Korea. The band got nominated for Favorite K-pop artist. Along with them other bands who also got nominated were TXT, TWICE, BLACKPINK, and SEVENTEEN. Not only that, but the Korean boys also got nomination for Favorite Pop Duo or Group for the fourth time in a row.
Finally won for the winner of the Favorite Pop Duo or Group.
All about the award show and other artists presence
In the previous year the group was tied with Daryl Hall & John Oates, Black Eyed Peas, Aerosmith, and One Direction with three wins each. But this time, in spite of the great competitors like Coldplay, Imagine Dragons, Måneskin, and One Republic, BTS made it. Along with that, they also won Favorite K-Pop Artist award and also the Fan Favorite category against One Direction which was pretty much obvious to guess as the fan of the army is highest among all.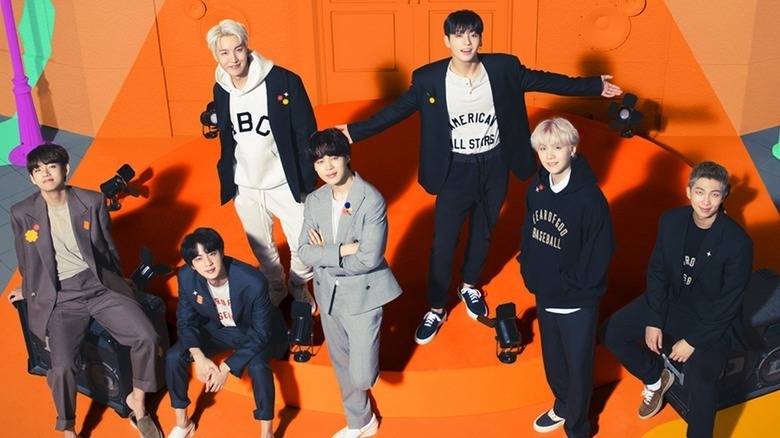 BTS was all excited for the new achievement and shared it on their twitter handle. Moe than the group, BTS fans were so satisfied and happy for them. Many of them congratulated the group.
Also read: KELLY ROWLAND SHUSHED THE CROWD WITH A CHILL OUT WHEN CHRIS BROWN WON AMA AWARD