We all love Billie Eilish! She has been creating quite a stir online right from her first album release. Her unconventional albums and her own protection of herself made her a sensation overnight. However, there is this one thing about her that we all are quite aware of! She is one of the biggest fans of Justin Bieber.
Justin Bieber And Her Biggest Celebrity Fan Who Cannot Get Enough Of The Pop Star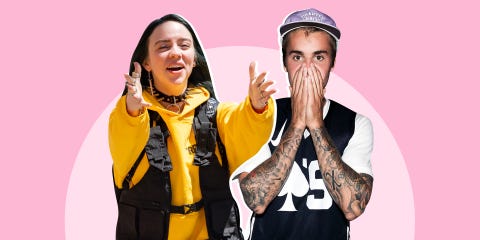 She announced her love for the pop star Justin Bieber a couple of times. In an interview with Ellen DeGeneres on her show, Billie was all about her idol. She even joked about how she is sitting on the same couch where Justin Bieber sat!
After that episode, everyone knew what a big fan Eilish is. The video clipping became viral overnight. Ellen even teaser the singer a bit making the impression that Justin is there to surprise her. Not only that but the singer had a picture from her childhood where her whole room is filled with pictures of Justin Bieber.
Finally, her dream came true when Billie Eilish was indeed able to record a remix of one of her songs, alongside Justin Bieber himself. Bieber also went on record to say he is very proud of Billie Eilish. There is also a video where all the fun moments are recorded and put together. In that video, Billie admitted that she knows all Justin Bieber songs by heart! She also seem to singing some lyrics while she was running some errands as well! We would love to see the two collaborate for yet another song. That would be a chart topper for sure.