Tom Cruise pulls some aggressive aerial stunts in Top Gun: Maverick
As the days are coming nearer for one of the much-awaited mega project, Top Gun: Maverick, a sequel to 1986 Top Gun, the team has is slowly going in full throttle. The team has started revealing tidbits about the movie little by little, making fans curious than before and at the same time hinting about the adventure that awaits them.
The second trailer of the movie was released last week that left everyone stunned with the massive and flawless aerial shots, but if you thought that it was all, then hold your breaths because that was merely the tip of the iceberg. Paramount Pictures has released new footage on their YouTube channel and it will cause you an adrenaline rush, may even make you feel dizzy. Tom Cruise reposted the video on his twitter page captioning, "Warning: Real flying. Real g-forces. May make you puke. #TopGun."
Warning: Real flying. Real g-forces. May make you puke. #TopGun pic.twitter.com/CRjROgOvwd

— Tom Cruise (@TomCruise) December 18, 2019
The 3-minute long promotional clip shows Tom Cruise flying a fighter jet and everything that went onto to capture the flight. Tom Cruise is known for doing his stunts and living up to his reputation, the star has taken it several notches higher in this aviation saga by performing the most ambitious stunts of his career. There are 6 cameras capturing Tom aka Pete's strained expressions as he is trying to stay conscious and combating G-forces.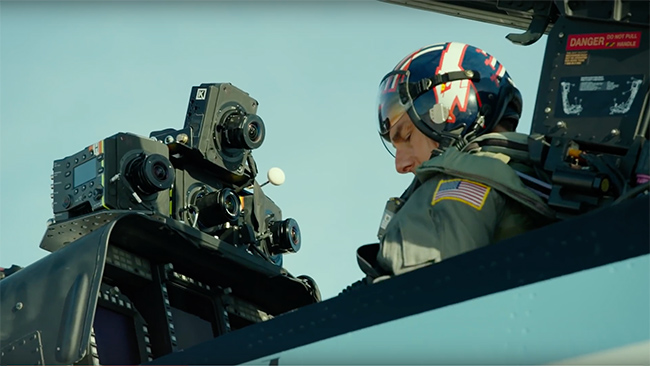 Tom Cruise said in the video that that kind of experience can't be created unless shot live. In order for them to accomplish this, they have the greatest fighter pilots working with them. He also revealed about the aggressive nature of training he and his colleague actors underwent for it. The shot required them to face G-force of up to 7.5 to 8 of force.  The director Joseph Kosinski with the use of new Imax technology was able to place a number of cameras inside the cockpit to get several angles of the pilots as the aircraft were turned and twisted.
Miles Teller who plays Rooster in the movie said that putting them up with the jets was very serious and that's the reason why everybody thought that it isn't possible except for Tom. He told that Tom gets to work whenever he hears the word 'impossible.'
The cast isn't leaving any stone unturned to make it the most fulfilling, adventurous experience of 2020 when the movie will hit theaters on 26th June.
Check out the new footage below!