The Good Doctor Season 6: You are not ready for this!
The Good Doctor is a popular medical drama web series on Netflix. It has successfully telecasted 6 seasons till date. Recently, the season 6 of The Good Doctor got released on October 3,2022.
It has a really big cast with fabulous actors working in it — Freddie Highmore, Antonia Thomas, Fiona Gubelmann, Paige Spara, Richard Schiff, Nicholas Gonzeles, Hill Harper, Christina Chang, Will Yun Lee, Noah Galvin, Chuku Modu, TamlynTomita and many other top actors. It is overall a good show.
Storyline: 
The Good Doctor is an American medical drama television series. The show is produced in the production house of ABC Signature and Sony Pictures Television. The series is all about how Freddie Highmore is a young autism hit surgical resident at San Jose St. Bonaventure Hospital. The Good Doctor has always received mixed reviews from the people. The series got first premiered on September 25, 2017 and has recently renewed into season 6.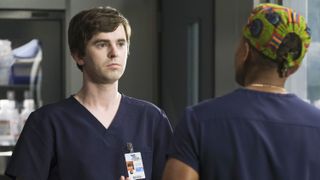 Season 6 kept the fans on toes
The season 5 of The Good Doctor ended with a lot of drama. There was a wedding portrayed in the season 5. Dr. Murphy and Lea Dilallo get married in the previous season.  There will absolutely be some sort of drama in the season 6.
This Daniel Dae Kim produced show absolutely has a long way to go. The season 6 has 22 episodes. Earlier seasons used to have not more than 20 episodes, which looks as the good start for the show.
ABC has confirmed that the show has not ended yet. There is a long way forward for The good doctor. This medical drama is not at all ending on season 6. Well, October 3, 10 pm is the date confirmed by the ABC pictures. Happy watching!
Also read: NETFLIX'S WEDNESDAY: NEW TRAILER REVEALS FRED ARMISEN, CHRISTINA RICCI, AND MORE