Celebrity kids are always on the news. And when it is the case of children of the A-listers, things are bound to be controversial. Brad Pitt and Angelina Jolie adopted a lot of children and, everyone knows that. The couple shares six children together. And since there are so many members, the tabloids don't hesitate to come forward with bizarre stories about the family. And more often than not, their 13-year-old daughter Shiloh finds herself at the center of all these fraudulent articles. Especially about her bond with Brad Pitt. And there is more than one story which was later proved wrong.
Fake stories of conflict between father Pitt and daughter Shiloh!
One of the fake stories implied that Pitt and Shiloh aren't on good terms, and apparently, there was a rift between them. An article came out in February 2018 that Shiloh broke Brad's heart. The family went on a trip to Paris, along with Shiloh's siblings.
Shiloh apparently did not add Pitt's initials to the "lock of love" on the bridge over the Seine called Ponts des Arts. The reports said Shiloh marked the initials of Jolie and her siblings, but not Brad. The report was entirely false, and even insiders from the family revealed that there was no bad blood between the father and daughter.
Another story came up in September 2018 that Shiloh went on a trip to Europe with Brad Pitt and ex-wife Jennifer Aniston. The article said George Clooney loaned his house in Lake Como, Italy, to Pitt. The story was not true at all. The three never went to Europe together, and Pitt and Aniston were not even in contact at that time.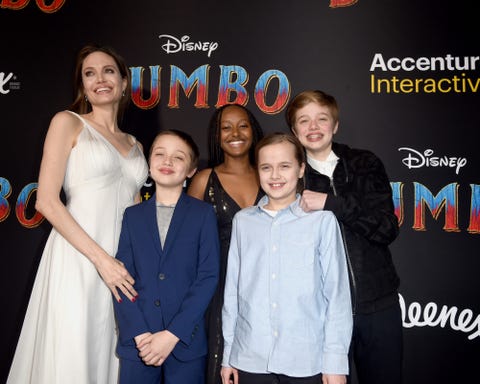 Then again, another story released a year later in September 2019. The story said Shiloh was apparently upset with Pitt because he attended Sunday Service by Kanye West. Shiloh believed the Sunday Service was a celebrity cult, and she didn't want her father to involve in it. But later, Pitt's spokesperson revealed the story was not true at all.
And lastly, another story came up recently in October 2019. The story said Shiloh begged Pitt to save her from Jolie. Just a month ago, tabloids said Shilph was leaving Jolie to stay with Brad Pitt. And neither of the stories are true. The tabloids just want to sell more papers, and hence they create fake stories. When you are a celebrity, it's normal t hear tons of rumors about yourself. Even their children suffer from this. We are sure the above stories aren't the end, and there are more to come.