It seems like The National Basketball Association has suspended the season until further notice after a player tested positive for COVID-19. This cancellation was done to ensure everyone's safety during this time of a worldly crisis.
Rudy Gobert was trying to be funny when players and media were kept at a distance for shoot around interviews. Now that he's tested positive for #COVID19 #Coronavirus not as much. Wishing him a speedy recovery. pic.twitter.com/Lp7T0TK9yZ

— Heidi Hatch (@tvheidihatch) March 12, 2020
Player Rudy Gobert Has Been Rested Positive For CoVID- 19! The Season Is Cancelled By Basketball Association.
It is also reported that the NBA will use this sudden hiatus to determine the next steps for moving forward in regard to the coronavirus pandemic that has spread to the whole world. It seems like.one player has to pay a heavy price after he mocked the deadly virus by touching all the nice at a press conference.
"The Jazz are sitting in their locker room, lined up in a circle, they all have masks over their face and they're going to be tested by Oklahoma health officials for the virus."@royceyoung with the latest from Oklahoma City. pic.twitter.com/IYrHJP5U9Z

— SportsCenter (@SportsCenter) March 12, 2020
Player Rudy Gobert took the issue lightly and slightly mocked the deadly disease by touching the microphones. However, things have taken a sad turn as the player has been tested positive for COVID-19. Take a look at what people had to say about this ironic turn of events on Twitter!
Just a couple of days ago Rudy Gobert touched all the mics at his press conference as a joke. He now has the coronavirus and the NBA Season is suspended

— New Culture 👑 (@NewCuIture) March 12, 2020
Rudy Gobert Affected After He Himself Mocked The Deadly Virus!
People could not help but point out the irony of the situation and are posting this issue on Twitter. There will be some serious economic downfall that goes well beyond fans missing out on the games, teams losing ticket revenue and television losing ratings.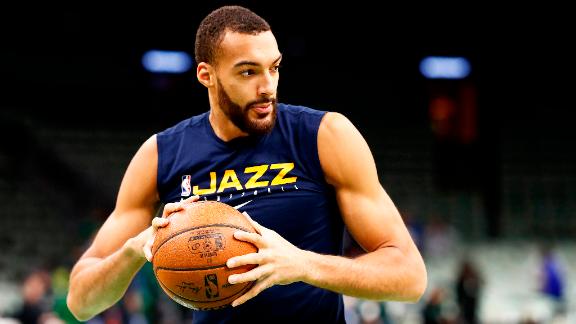 Sports analyst Marc Ganis has revealed in an exclusive interview that the team has taken the right decision. If one person is tested positive, it can have a huge effect on the other player's well- being as well. A lot of big sectors are withholding their work for the time being to ensure their team members safety. Let us see how far this cancellation continues to affect players and others involved.