Ellen DeGeneres show is one of the most popular shows out there. Recently Rob Lowe visited the "The Ellen DeGeneres Show", where he spoke lovingly about his sons.
Both of his sons are doing amazing. His youngest son John Owen, who is 24, will probably work for screenwriter Ryan Murphy. On the other hand, his eldest son Matthew, who is 26, just passed the California bar exam. People already know John for trolling his father on Instagram. But he didn't limit his skills to just there. It seems trolling his father on national TV is his expertise.
In the recent clip, we saw Ellen interviewing Rob Lowe. But his son John delivered perfectly curated burns about his father backstage and posted them to the screen. Both Matthew and John have a history of playfully dissing their father. However, Lowe does not seem to take any offense. He just added, "They troll me, as the kids call it."
At the beginning of the interview, Lowe discussed a People magazine feature where they called him "sexy at every age." While this discussion was going on, John commented saying, "You should ask him how many times he's been on the cover." He said this in reference to how Lowe was never on People's Sexiest Man Alive.
John added his dad was there, but it was just a participation award. DeGeneres then tried to explain why Lowe could have been on the cover. John didn't keep mum even after that. After he saw a picture if a shirtless Lowe cuddling their dog, John teased his father saying, "Honestly surprised he's not shirtless right now." The playful taunts and cute teasing kept on coming. John even teased his father for not doing any work around the house.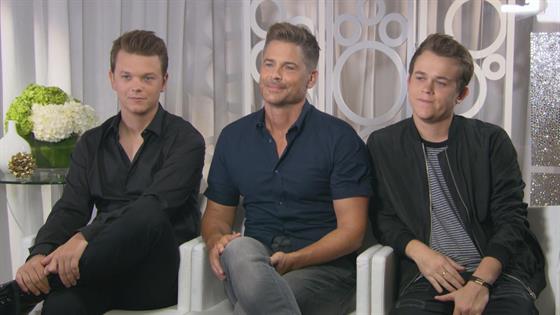 Ellen then talked about Lowe's trip to Galapagos Islands and showed a picture of the actor with a large tortoise. Lowe said the animal was probably 150 years old. He said he didn't exactly know how long they lived but the one in the picture was a pretty big boy. This story gave John to deliver another witty line at his father. He said, "Just a bunch of dinosaurs hanging out, rob fits right in.."
We are surely in love with this playful father-son duo.