The Empire alum has just directed his debut film B-Boy Blues 
Jussie Smollett is out and about, and has showed up to the red carpet after a long time.
The former Empire star was seen at the AMC Magic Jonson Harlem multiplex in New York City for the premiere of his new film B-Boy Blues. The 39-year-old actor had been lying low ever since his alleged 2019 hate crime attack in Chicago, which led to further legal troubles and court hearings.
Jussie's legal troubles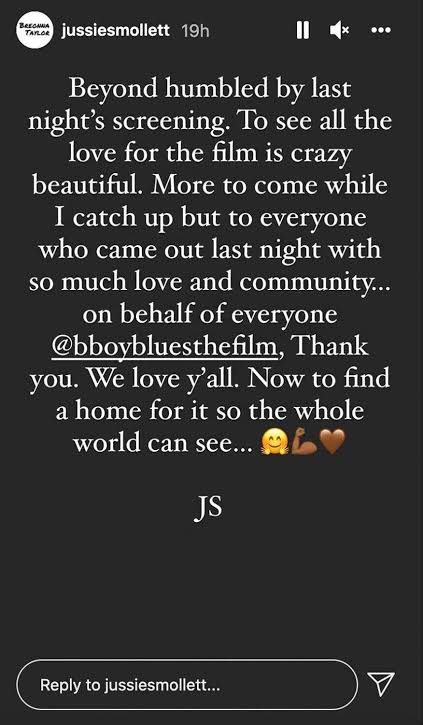 Jussie Smollett alleged to the Chicago P.D. on January 29, 2019 that he was assaulted by two white men wearing MAGA (Make America Great Again) hats, who poured some unknown chemical substance on him and tied a noose around his neck. They were also yelling racial and homophobic slurs.
But things took a complete 180 when police raided the home of two brothers on February 13, 2019, who admitted to working with Jussie Smollett as extras, and had been paid $3,500 by the actor. Smollett was soon booked for disorderly conduct for paying the duo to stage a hate crime, and filing a false police report. His team managed to make a deal with the prosecutors and brought the charges down to community service and forfeiting his $10,000 bond.
Meanwhile, Smollett's next trial is about to start on November 29.
Smollett's movie
Jussie Smollett's movie B-Boy Blues is an adaptation of James Earl Hardy's best-selling 1994 novel by the same name. It tells the sad story of Mitchell Crawford, a 27-year-old journalist, and Raheim Rivers, a 21-year-old bike messenger and banjee boy, also known as a B-boy. The two fall in love, but are unable to live peacefully due to the homophobic and violent world that existed in the '90s.
The book is considered to be one of the finest contributors to LGBTQ+ literature.
Also read: DRAKE AND KANYE WEST TO HOST CONCERT FOR FORMER GANG LEADER LARRY HOOVER'S FREEDOM FROM PRISON