Return Of Sportsmaster and Tigress
Neil Hopkins and Joy Osmanski who are familiar as Sportsmaster and Tigress returns to feature in the new season. They both were introduced in the Stargirl season 1.
Since their debut as villains from the  "Summer School: Chapter Four," they are all set to be featuring as series regulars for the next season.
In the season 2 of the episode, "Summer School: Chapter Four" both are expected to return.
On a early note on the season 3 both are set to be in the spotlight as regulars for the show. And also the promo for the next episode of season 2 gives a glimpse of their return.
An Overview Of Sportmaster and Tigress
They villainous couple were the members of Injustice Society of America who were defeated in season 1. Sportsmaster had an amazing background story. He was an athlete turned criminal who used his past skills in his current life.
Similarly his wife i.e Paula Brooks has a double life. She possess the skill of an expert marksman, hunter and martial arts.
And both were members of the same villainous group who were shut-down by the Supergirl's team. Sportsmaster and Tigress with same personality are back once again in the show's episode.
Their Roles In The Next Season Of Supergirl
Both Neil and Joy were confirmed to take up a major role in the next season. The present story of the show features The Shade and Eclipso, so both Sportsmaster and Tigress have no big roles in the current season.
However, in the next installment of the show they are promoted as regulars for the whole season. And this will be a major upgrade in their careers too.
In the recent promo from season 2 Crock(Neil Hopkins) and Paula(Tigress) surprises everyone from their unusual visit.
Even though its too early to break the news of their future roles, both seem very happy about their promotion.
Joy Osmasnki posted on social media about how happy she was on moving upwards in her career.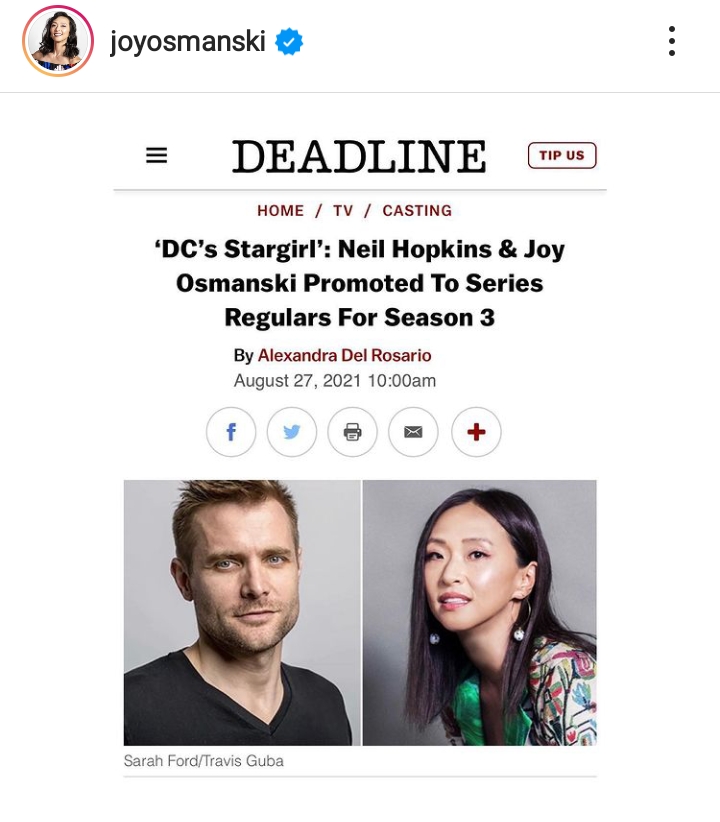 For now fans can see their performance on The CW, August 31, at 8/7c.
Also read: