Doctor Strange new trailer in Super Bowl
Doctor Strange sequel- Doctor Strange in the Multiverse of Madness dropped its new trailer. This film is the aftermath of what comes after messing with the multiverse with a spell in Spiderman: No Way Home. This new trailer is premiered in the Super Bowl LVI on 13th February 2022.
Marvel Studios' #DoctorStrange in the Multiverse of Madness arrives only in theaters May 6. pic.twitter.com/CCQXPNMfHm

— Doctor Strange (@DrStrange) February 13, 2022
This trailer is packed with new elements like the appearance of Wanda Maximoff (aka Scarlet Witch played by Elizabeth Olsen) and the evil self of Doctor Strange. New cast members like Xochitl Gomez (America Chavez), Michael Stuhlbarg (Dr. Nicodemus West). And existing cast members Benedict Cumberbatch(Dr. Strange), Benedict Wong(Wong), Rachel McAdams (Christine Palmeras), and Chiwetel Ejiofor(Baron Mordo).
The Overview of Trailer
The film is going to hit theatres on May 6, 2022. We can see in the trailer that Doctor Strange has to accept the consequences of his previous spell. He now faces a multiverse. Wanda will be helping Strange with this new concept. Since she knew something about Multiverse(We can see that in the Wanda Vision series). A mysterious voice in the trailer is predicted to be   Patrick Stewart. This name is Professor Charles Xavier from X- Men Series. Another Marvel Universe film.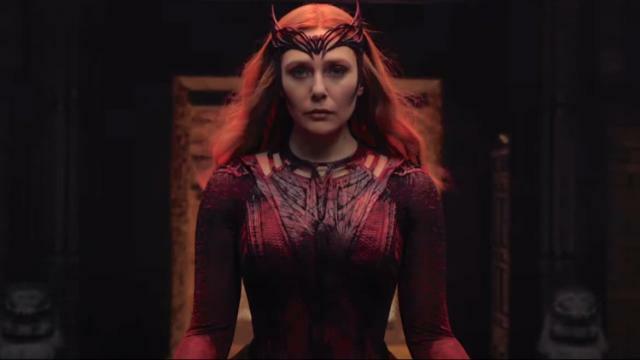 The entry of Wanda will be magical since her powers are unimaginable and amazing at the same time. This will be of huge advantage to Strange. The Evil self of Dr. strange was seen before in the 'What If…?' animated series. this movie will be after the series of 'Wanda vision' and 'Loki'.
The previous trailer was premiered along with post-credits the No Way Home film in December. We will wait till May 6. Let's hope that no COVID upsurge will happen in the future and wish the film a smooth success!!
Check Out the new Trailer!
Also read: MARVEL STUDIOS LATEST SERIES MOON KNIGHT TRAILER RELEASES DURING SUPER BOWL BORADCAST