Holland is now a supporter of the charity Stem4
Tom Holland made a surprise return to Instagram after more than a month's absence, only to say that he will be going away again. The Spider-Man: No Way Home star said that the break was for him to focus on his mental health and that he has been absent from all digital platforms. He even admitted to deleting Instagram. Let's now read about the full reason for his brief return.
Why did Tom Holland return?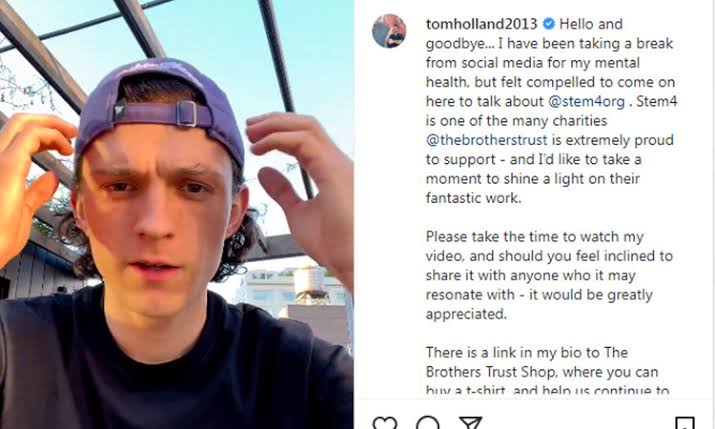 Tom Holland posted a 2 minute-long video and started by saying that he had been struggling for an hour in trying to come up with what he wanted to say. He said that the reason for his social media break was because he found Instagram and Twitter to be overstimulating and overwhelming. He also admitted to getting caught up and spiraling whenever he reads something about himself online. In the end, they affect his mental state, and this led him to take a step back and delete the app.
On why he returned, Tom Holland said that he wanted to bring awareness to the charity step4, which is an educational program that helps youngsters in managing their mental health. Holland said that there is an "awful stigma" against mental health, and said that asking or seeking help regarding one's mental health is not something to be ashamed of, but is still something easier said than done.
The 26-year-old actor said that he has used all four apps in the program and said they had been "fantastic" and "really helpful."
About His Next Return
After talking about stem4, Tom Holland said that he is going to disappear from Instagram again, thanked his fans for the love and support and that he will speak to everyone "soon." Knowing that the actor is taking a break from acting as well makes it clear that he will fly under the radar for at least half a year.
Also read: DWAYNE JOHNSON HAS NO PLANS ON RETURNING TO FAST & FURIOUS FRANCHISE DESPITE ALL VIN DIESEL'S ATTEMPTS