Kourtney Kardashian and Travis Baker are set to welcome their baby?
Kortney Kardashian and Travis Baker exchanged vows this year in a lavish wedding. The two have been madly in love and their much intimate pictures tell it all. They can't seem to get enough of each other and just can't keep their hands off each other.
While the two still must be enjoying their honeymoon phase, a new information has leaked revealing Kourtney Kardashian apparently being pregnant with Travis Baker. The new pictures released shows a hint of baby bump.
Kourtney Kardashian's relationship with Travis Baker is trending among there fans. The couple has been observed as official couple since 2021. Eventually many people think that that they have started their relationship on board as new knowns. But to the surprise of fans, it came out that the couple knew each other for a long time.
It was confirmed that the couple is dating after Baker spent a whole holiday at Kris Jenner's Palm Springs California house. This was the time of January 2021. They know each other since very long-time has recently started dating. In fact, there are 100% chances, Kourtney Kardashian is going to talk about her relationship in last finale of Keeping Up With The Kardashians.
There PDA says it all- recently he also commented some cute things on Kourtney's post
Baker left multiple flirtish comments on her Instagram posts. He commented an emoji of mermaid on a post in which Kourtney Kardashian is walking towards an ocean.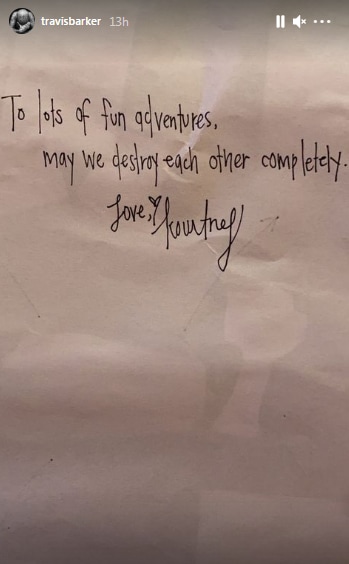 Baker also called her cool after she shared some snaps from 1993 film True Romance. In fact, Baker has previously said that it is his favourite movie. Moreover, he has also named his daughter after Patricia Arquette's character, Alabama.
This prove that PDA between the couple is catching all fires.
Fans have been seeing them together in 2018 grabbing dinner and evening Church services
They also live in same Calabasas, California, gated community. In fact, the musician has also made an appearance in the show alongside his ex wife Shanna Moakler. In 2017, during an interview, Alabama and Baker praised the Kardashian family a lot. Further in 2018 the duo gave fire to rumours of dating. They keep going on various outings together at that time.
In 2019 they were night outing in Malibu together. Finally, in January 2021 everything was made clear and it came out that they are dating.
Also read: HENRY CAVILL ISN'T SHYING AWAY FROM DISPLAYING HIS LOVE FOR GIRLFRIEND NATALIE VISCUSO!