Season 4 kicked off production earlier this week
Since season 3 of The Boys was airing, there had been talks of what's next. Showrunner Eric Kripke has also been giving teases to the fans and did not refute rumors of a reunion with a Supernatural alum. Turns out, the rumors were true, and Jeffrey Dean Morgan is now part of season four.
About 'The Boys' Season 4
Morgan's casting comes after Valorie Curry and Susan Heyward were announced earlier this month on being the latest cast members. The Amazon show always brings in new characters with each season and is getting better with each season. Morgan will soon join the others in their bloody fun over at Toronto, Ontario, Canada.
Morgan is perhaps best known for playing the villainous Negan in AMC's The Walking Dead. He will be reprising the role in the show's spin-off series Dead City, with shooting taking place in New York City. But before all this, the 56-year-old star became famous for Supernatural's patriarch John Winchester. Kripke had been the creator and showrunner for the CW show for five seasons. Before Morgan, Supernatural alum Jensen Ackles appeared in season three of The Boys as Soldier Boy.
Jeffrey Dean Morgan's Role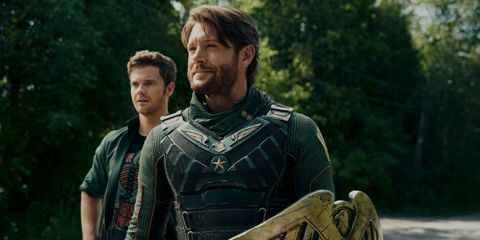 The Boys creators are maintaining silence over who Morgan will be playing. What they did reveal is that he will play a recurring role. Morgan has been a true chameleon in his thirty years in the industry and has played tragic lovers, a broken hero, and terrifying villains. But fans think he will be Tek Knight, leader of Team Payback, and a villain parody of Batman and Iron Man. Whoever he plays, he is going to give a standout performance just like Ackles, Anthony Starr, and the rest of the cast have been doing.
Also read: NETFLIX RELEASES FIRST LOOK OF EVAN PETERS AS JEFFREY DAHMER IN 'MONSTER: THE JEFFREY DAHMER STORY' AND IT'S TERRIFYING